well hello peeps. Korang sihat tak? kesempatan dalam kesempitan den telah membuat new header to den sendiri lah. Korang perasan tak header lama yang tulisan je tu, ade kesalahan ejaan disitu. Ala nak letak header lama, tapi dekat laptop yang bapak den guna --" so tak dapat nak tunjuk la ejaan salah tu dekat mana. header lama "
simple is batter
" . batter tu yang salah. thanks to bloggers yang bagi tahu. thanks yer
see my new header. for your information,
that doodle i made my myself
.
*omputeh pulak
. tapi cartoon tu dari wallpaper henpon cap ayam den. so tiru dan sketch dekat photoshop. itu dikira meniru tapi bukan menciplak. ye ke?
ape pendapat korang tentang ni? pendapat korang tentang header?doodle? den dikira copy cat ke?
nota kaki: thanks to my sister for helping in coloring doodles :) accompany me :)
pendeknye entry ? ok da bai ! --"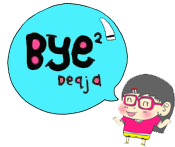 ---
thanks for reading . please drop your comment . :) love you
---