"
There are big ships and small ships. But the best ship of all is friendship "
dia :: noor hazila Ismail
1st kenai kat JMTi , she so hot ! haha :)
kiteorang dok sebilik masa sem 1 , tingkat 4 bilik puaka
pas 2 kami d pisahkan d sebab kan class lain2
tp kami tetap BFF , no no
GGFF great gurl friend forever
masa dok bilik sekali tu , den lah byk mlut ,
dia diam mlu2 kucin taik sungguh !
tipa2 malam den cerita cam night story
sedar2 dy dah kroih3 kat sebelah ! ayooooo
memang sllo spend time same-same
g kawad , g makan, g mandy ( bilik mandi asing2 ok ! )
g surau , skip ceramah , skip kawad, lpak cafe
kdg2 kami ni macam dek bradik ,
mak ayah dy den knai n sllo lpak n tdoq umah dy
smpai makcik jual cok pisang kata kami dek beradik
* makcik 2 slh tngok kot ! muka len2 meyhh !
kira tang mana da dy tang c 2 ada deqja ,
kuar dating same2 , kuar overnght same2,
dah abes blajo g carik keja same2
sumer sama2 lah !
tiga tahun bersama , suka duka pahit d lalui bersama
walaupn dah lama , still den miss u ila,
den harap kita akan GGFF selamanya lah !
p/s to iela :: hang ingt senang ke nak korek pic 3 thun dlo !
p/s to clara :: sume ni pic lama , nak boh pic baru xsiok ! xder memory lama tersingkap ~ hihhihi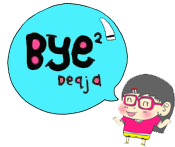 ---
thanks for reading . please drop your comment . :) love you
---